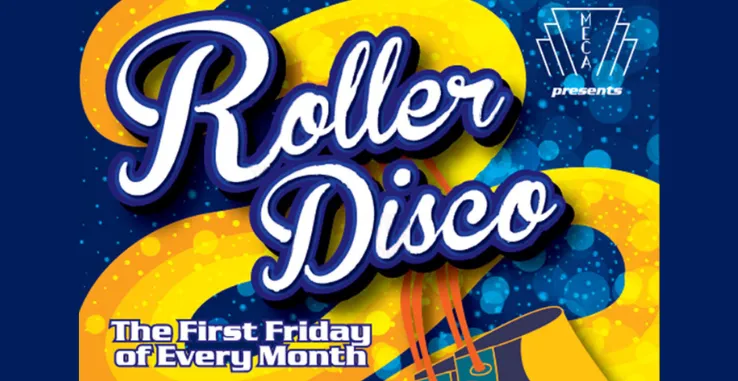 Address: Regent Circus, Swindon, SN1 1PR
The Swindon MECA Roller Disco takes place on the first Friday of every month.
Customers aged 12 and under need to be have an adult present in the venue. Suggested ratio is 1 adult to 10 under 12s.
Available Skate Sizes: UK Infant 9 – Adult 13.
Roller Skating Rules
NO speed skating
NO drinks on the skating rink
NO food on the skating rink
NO skates on the staging, barriers or stairs
NO chewing gum
NO aggressive skating
NO spectators allowed on the skating rink
NO horseplay or disruptive behaviour
SKATE in an anti-clockwise direction, unless otherwise instructed
SKATE within your own ability
Party packages
Children's Roller Disco Parties are available at our Family Roller Disco session which runs on the first Friday of every month.
The Roller Disco Parties are 2.5 hours long (5:30pm – 8pm).
Party packages include the following:
Party food
2 slices of dominos pizza or hot dog served with chips
Admission to roller disco
Skate hire
Decorated balcony area
Unlimited squash
Party host
Birthday child will receive a free ticket for the following month roller disco
£15.00 per child
Food upgrade option – £3.50 per child (includes Sausage rolls, cocktail sausages, biscuits & crisps) (when purchased with a party package)
Sweet cone option – £1.50 each (when purchased with a party package)
We've got it covered all you need to do is bring the Children and a Birthday Cake!
Minimum Party Size: 6 Children
Parties of up to 15 children – 2 FREE Adult Admission Included*
Over 15 Children – 4 FREE Adult Admission Included *
Admission (including booking fee) - £7.60 pp. At the door - £10.00. Skate hire - £2.20