A delightful habitat for a diverse range of wildlife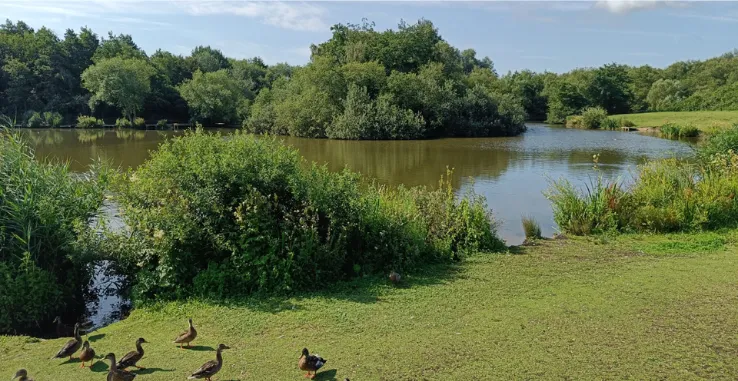 Discover the beauty of nature as you embark on a lovely walk around the Peatmoor Lagoon in Swindon. This captivating nature reserve, managed by the Wiltshire Wildlife Trust, offers a remarkable story of rejuvenation and is now home to diverse wildlife and breathtaking landscapes. Join us as we explore the wonders of Peatmoor Lagoon, a serene paradise for nature enthusiasts and wildlife lovers.
The Story of Peatmoor Lagoon
Once a site for storing waste by-products, Peatmoor Lagoon underwent a transformation in 1985 when Thames Water cleared the area and planted reeds to restore its natural habitat. Since then, the Wiltshire Wildlife Trust has diligently managed the reserve, allowing wildlife to thrive in its picturesque surroundings.
Exploring the Lagoon and Surroundings
As you set foot on the trails around Peatmoor Lagoon, you'll be captivated by the picturesque landscape of 15 lagoons, reed beds, grasslands, and marshlands. The reserve offers a delightful habitat for a diverse range of wildlife, from colourful dragonflies to graceful waterfowl. Volunteers play a crucial role in maintaining the balance of habitats and ensuring the preservation of open water for wildlife.
Birdwatching at Peatmoor Lagoon
Birdwatching enthusiasts are in for a treat at Peatmoor Lagoon, as the reserve provides an ideal habitat for various bird species. Whether you visit in summer or winter, you'll have the opportunity to observe a rich avian diversity. Keep an eye out for the grand heronry, an established nesting site for majestic herons. During the winter, shoveler ducks, little egrets, and tufted ducks can be spotted on the water, while snipes and sandpipers probe the mud for insects.
The Nature's Wonders: Fauna and Flora
Peatmoor Lagoon boasts not only an array of wildlife but also a stunning variety of flora. The reserve is home to great crested newts, frogs, and toads that thrive in most lagoons. Among the trees, you'll find willow, ash, oak, and birch, providing a beautiful backdrop to the glistening waters. Don't miss the intricate nests of harvest mice, hidden within tall grasses.
Engaging Activities During the Walk
Beyond the breathtaking scenery, Peatmoor Lagoon offers a host of engaging activities. As the evening sets in, witness deer, foxes, badgers, and bats come to life, adding a touch of enchantment to the walk. The park provides facilities for picnics, making it an excellent spot for a leisurely day outdoors with family and friends.
Safety and Conservation
While you venture into the beauty of Peatmoor Lagoon, remember to adhere to safety measures such as wearing appropriate footwear and clothing for different seasons. Additionally, let us remember the importance of conservation and responsible visitation to protect the precious wildlife and natural habitats.
Conclusion
Peatmoor Lagoon in Swindon is a nature lover's paradise, showcasing the remarkable recovery of a once-wasted landscape. The reserve's scenic beauty, diverse wildlife, and engaging activities make it a must-visit destination for both locals and tourists alike. Let us cherish and preserve this precious gem for generations to come.
Frequently Asked Questions
The best months to visit for birdwatching are during summer and winter when you can observe various bird species in their natural habitat.
Yes, you can access the lagoon without a guided tour.
Yes, dogs are allowed on the walk; however, they must be kept on a leash to ensure the safety of wildlife.
The duration of the walk can vary depending on the route taken and individual preferences, but it typically takes around 1 to 2 hours.
Peatmoor Lagoon is open to the public without any entrance fees, offering free access to enjoy its natural beauty.
The heronry serves as a nesting site for majestic herons, offering a unique opportunity to observe these graceful birds.
Yes, of course you can bring a picnic to the park for a delightful experience, but please ensure you follow the guidelines and dispose of waste responsibly.
While Peatmoor Lagoon hosts various wildlife, there are no records of endangered species in the reserve.
During the evenings, you can observe captivating wildlife, including deer, foxes, badgers, and bats, adding an enchanting touch to your experience.
To volunteer and support conservation efforts, reach out to the Wiltshire Wildlife Trust and inquire about available opportunities to contribute to the conservation of this precious reserve.
Thank you for joining us on this beautiful journey through the Peatmoor Lagoon. Nature's wonders await you at this serene paradise in Swindon. Embrace the beauty of the outdoors and cherish the treasures of our natural world. Happy exploring!